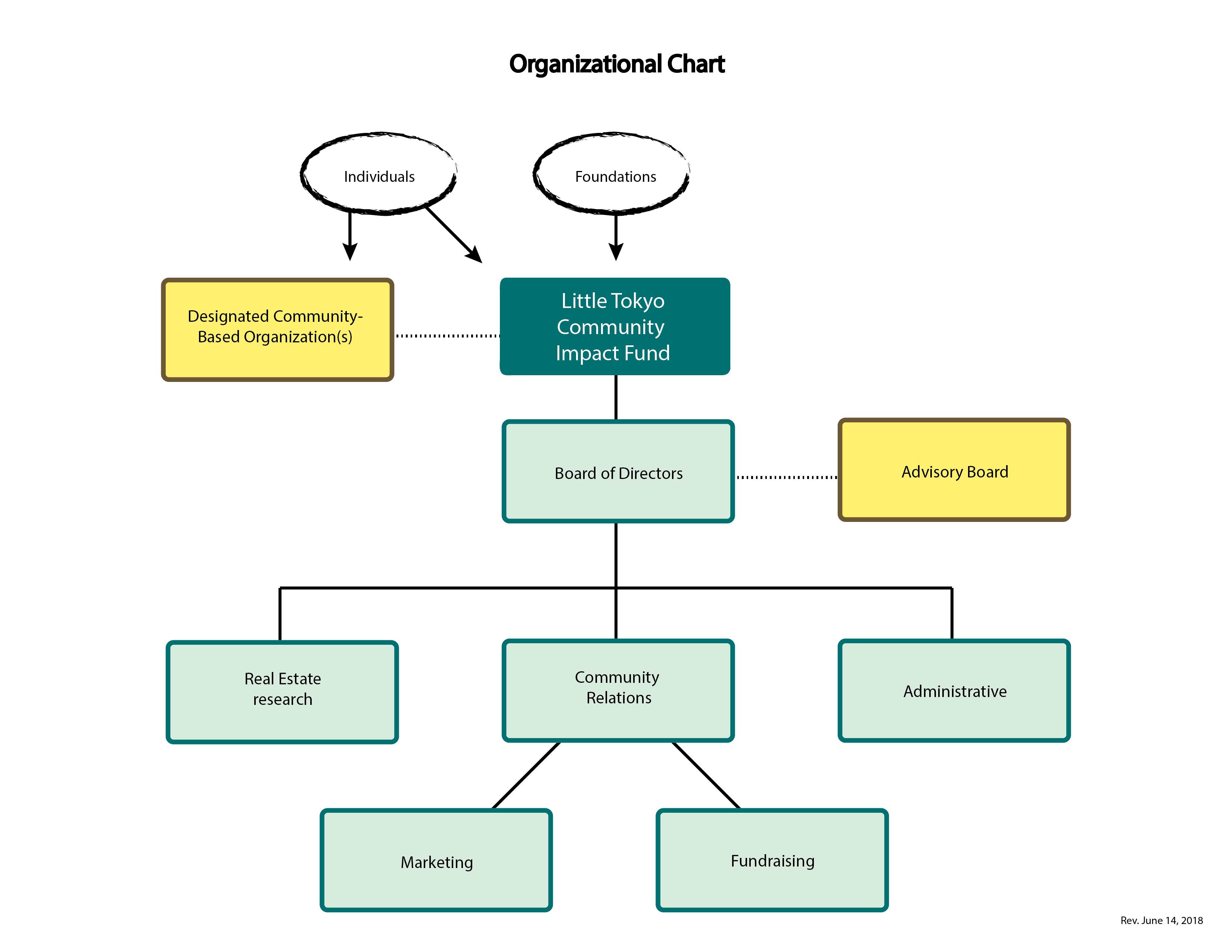 Board of Directors
The Fund will be managed by a Board of Directors (the "Board") elected by the Shareholders. While the Board will oversee the Fund and its Properties it will not directly manage any of Properties.  The Board is authorized to employ, on behalf of the Fund, at the Fund's expense, legal, financial, tax, accounting and other professionals.
Size of the Board: The Board will initially have twelve (12) total directors (each, a "Director"), although it may have as few as five (5) and as many as twenty-four (24) Directors, with such number to be fixed within these limits by the Board.
Makeup of the Board: To anchor the Fund to its social purpose, and in order to ensure that the Fund remains one based in the community, the Fund's board has been designed to ensure that representatives of each class of Shareholders have the opportunity to participate in Fund decision making and that the Fund's social purpose is ensured, as follows:
Class A Directors: Irrespective of the amount of capital invested by Class A Shareholders, no less than one-third (1/3) of the directors of the Board shall be elected by the Class A Shareholders. Any fractional amount shall be rounded up.
Class B Directors: All remaining directors shall be appointed by the Class B Shareholders.
The Non-Profit Observer: The Board will invite no less than one non-voting representative of Little Tokyo's social, cultural, and community institutions to attend, observe, and engage in meetings. The Non-Profit Observer must be a current employee or board member of an eligible non-profit institution ("Anchor Institutions"). Anchor Institutions currently include the Little Tokyo Community Council (LTCC), the Little Tokyo Service Center (LTSC), the Japanese American National Museum Japanese American Cultural Community Center (JACCC), the Little Tokyo Business Association (LTBA), and the Little Tokyo Historical Society (LTHS). Non-profit institutions may be added or removed to the list of Anchor Institutions by the Board.
For illustration purposes, with an initial Board of 12 Directors, 4 could be Class A Directors and 8 would then be Class B Directors. 1 Non-Profit Observer would also attend, observe, and engage in Board meetings but would not vote.
Interim Board Officers
Bill Watanabe, Chairman and President
Bill Watanabe was the founding Executive Director of the Little Tokyo Service Center (LTSC) in downtown Los Angeles. For 32 years, he guided its growth, in conjunction with the Board of Directors, from a one-person staff to a multi-faceted social services and community development program with 150 paid staff, many of whom are bilingual in any of eight Asian Pacific languages and Spanish. Bill retired from LTSC in June 2012. While at LTSC Bill helped to establish several key service organizations such as the Asian Pacific Community Fund, the National Coalition for Asian Pacific American Community Development, the Asian Pacific Counseling and Treatment Center, the Coalition to Abolish Slavery & Trafficking, and the Little Tokyo Community Council. Bill is also the founder of the API National Historic Preservation Forum. Bill has an MSW from UCLA, is married and has one daughter and lives in Silver Lake near downtown Los Angeles.
Miya Iwataki, Director and Vice-President
Miya Iwataki retired as Director of Diversity and Cultural Competency, leading the establishment of a Cultural and Linguistic infrastructure for LA County Health system which provides services for over 3.4 million visits a year for patients speaking 98 languages. Miya was Executive Director of the first Asian Women Center in the U.S. In 1970. She was sponsored by United Nations NGO to UN Decade For Women Convention in Nairobi, Kenya. She worked in media at KCET-TV; produced weekly radio programs at KPFK-FM (10+ years); and served as National Press Secretary for Congressman Mervyn Dymally. She was national legislative director for NCRR, a grassroots organization advocating for successful enactment of Redress/Reparations legislation for Americans of Japanese ancestry unjustly imprisoned in camps during WWII. Miya is Vice President of Little Tokyo Historical Society and columnist for Rafu Shimpo.
Mark Masaoka, Director and Treasurer
Mark Masaoka, retired, was the Policy Director of the Asian Pacific Policy & Planning Council (2008-2017) previously, the Director of Strategic Initiatives for the Los Angeles County Children's Planning Council (2004-2008), and Director of the Human Services Alliance (2001-2004). Mark was recently awarded the Lifetime Achievement Award by OCA-Asian Pacific American Advocates.
Steve Nagano, Director and Secretary
Steve, a former secondary school teacher and currently a resident of Little Tokyo has been a longtime community activist and currently is involved with the Little Tokyo Historical Society, Nikkei for Civil Rights and Redress, as well as a board member of the Historic Cultural Neighborhood Council (HCNC). Since moving to Little Tokyo his involvement has deepened as an organizer of the Little Tokyo Sparkle (community-wide cleanup), participant with Sustainable Little Tokyo, and as a Digital Histories (Visual Communications) filmmaker. With his father born on 4 th St. and with an office in the Firm Building and a member of the Olivers, his family roots in Little Tokyo reach back to the 1920s.
Advisory Committee
The Interim Board has been in consultation with an advisory committee that has led the initial formation of LTCIF.
---
Featured image: Original artwork by Shizu Saldamando