For more than a century, Little Tokyo has endured as a cultural center for Japanese Americans and continues to be a special place where many generations come together to eat, play, shop, and worship. As one of the few remaining historic Japantowns in the country, Los Angeles's Little Tokyo offers unique opportunities to celebrate the Japanese American experience and the community's long history in Southern California.
Yet as real estate prices in Downtown Los Angeles rise, and as development pressures in the area grow, many memorable and historic businesses and institutions that called Little Tokyo home have closed their doors. Many more face an uncertain future, with rising rents and real estate speculation.
The Little Tokyo Community Investment Fund (LTCIF) was established to directly address these challenges and preserve the legacy of Japanese American family- owned businesses, cultural institutions, and spiritual centers in Little Tokyo. By purchasing, leasing, and managing real estate in and around Little Tokyo, the LTCIF will contribute to community revitalization and cultural preservation and allow this community to not only participate but also gain from this process. At the same time, LTCIF will be positioned to act deliberately in order to help prevent gentrification and displacement from damaging the identity and landscape of Little Tokyo that makes this place so special.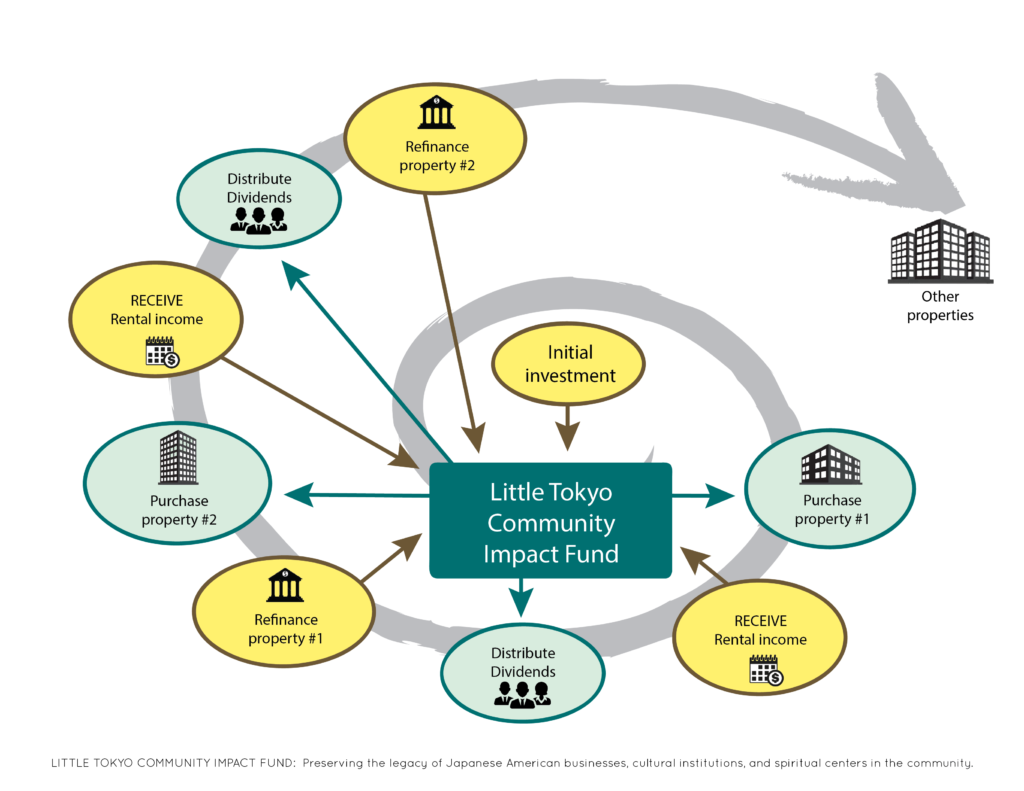 We are excited and honored that you are considering participation in the LTCIF and owning a stake in the future of Little Tokyo. Your investment will empower this cutting edge, community-driven effort to:
Purchase real estate in Little Tokyo and the surrounding area to guarantee community-based control of the neighborhood's future.
Provide affordable rents to Japanese, Japanese American and other culturally-aligned businesses, institutions, and spiritual centers that define Little Tokyo.
Ensure that future generations continue to enjoy Little Tokyo's historic businesses, restaurants, and institutions beloved by generations past.
The LTCIF seeks to achieve two goals: to support the preservation of the culture of Little Tokyo in Los Angeles, and to provide some return on investment to its shareholders. As a community-based project and social purpose corporation (SPC), LTCIF will be both transparent and responsive to its shareholders and the Little Tokyo community.
Because of LTCIF's social purpose and general intent to remain community based, we offer two classes of Shares:
| | | |
| --- | --- | --- |
| Share Class | Class A* | Class B* |
| Price Per Share | $1,000 | $5,000 |
| Minimum Purchase | One Share ($1,000) | Two Shares ($10,000) |
| Maximum Purchase | Two Shares ($2,000) | A Class B Shareholder's investment may not exceed 10% of that Shareholder's Net Worth |
*Each of these two share classes have specific eligibility requirements and limits to participation based on wealth, income, and other factors. These requirements were designed to support a broad based of community ownership and help LTCIF meet its goals.

The Offering is made to California residents under a permit from the California Commissioner of Business Development. Please note however, that the issuance of the permit is not considered a recommendation or endorsement of investment.

More details on investment options, our plan, anticipated returns, risks of investment, and more are contained in our Offering Circular (accessed below).
Case Study
A case study on a building in Little Tokyo was created to present possible outcomes had the LTCIF purchased the property when it was sold in 2016. It highlights two potential investment strategies and illustrates how the LTCIF would acquire and manage property.
How to Invest
If you live in the state of California, and would like to purchase shares as a Founding Shareholder in the Little Tokyo Community Impact Fund, please follow this step-by-step process:
Step 1 – Offering Circular
Also known as a Prospectus, the Offering Circular (or Memorandum) details our plan, structure, risks, and more. It also details important eligibility requirements for each class of share. It is important that all prospective investors fully review this document prior to purchasing shares, in order to understand the terms and risks of this offering.
Fill out the form below to receive a copy of the Offering Circular.
Note: You must be a California resident to receive a copy of the Offering Circular.
Step 2 – Investor Requirements & Questionnaire
To invest in the LTCIF, you must meet certain financial suitability and eligibility criteria. We have created a worksheet to help you calculate whether you meet the financial suitability and other eligibility criteria required to invest in each share class we are currently offering, as well as the maximum number of Shares of each class that you may seek to purchase. Each Investor must make his/her/its own investment decision in consultation with his/her/its own advisors.
Fill out the form below to request a copy of the Investor Requirements and Questionnaire.
Step 3 – Subscription Agreement
This is a legal contract for the purchase of shares. It sets out the terms that both parties agree to and requests certain information from you, such as your residential address, email address, date of birth, tax ID number, and signature. You must attach a copy of your Investor Questionnaire (from Step 2) when you submit your Subscription Agreement.

Fill out the form below to receive a copy of the Subscription Agreement.
Step 4 – Payment
We currently accept payment for Shares by check. Please contact us if you need to pay in a different way.
Questions? Contact us at 213-293-7535 or email info@littletokyocif.com.
Want to request the Offering Circular (Prospectus)?
THE COMMISSIONER OF BUSINESS OVERSIGHT OF THE STATE OF CALIFORNIA DOES NOT RECOMMEND OR ENDORSE THE PURCHASE OF THESE SECURITIES.